First and foremost, Mr. Landay is a Trial Attorney. He has been elected to the prestigious Academy of Trial Lawyers of Allegheny County.  The Academy is a by-invitation-only organization limited to 250 lawyers actively engaged in civil trial practice. It was established to promote the highest standards of integrity, civility, and competence in the legal profession.
Mr. Landay is also rated by his peers as AV Preeminent® in Martindale-Hubbell®.   AV Preeminent® is a significant rating accomplishment – a testament to the fact that a lawyer's peers rank him or her at the highest level of professional excellence.
Mr. Landay was born and raised in Washington, Pennsylvania. He was the first graduate of a unique engineering and law program developed by Carnegie-Mellon and Duquesne Universities in Pittsburgh. He received his Bachelors of Science Degree from Carnegie-Mellon University in Civil Engineering/Engineering and Public Policy and his law degree from Duquesne University School of Law.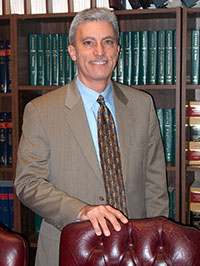 Following law school, Mr. Landay worked for two years with a Pittsburgh consulting engineering firm, primarily in the areas of environmental engineering and regulatory compliance. Since 1983, he has been in the private practice of law. In 1996, he left a local law firm to establish his own law office. He concentrates his practice on all types of accident and injury claims and lawsuits, including claims for injuries and death resulting from automobile accidents, dangerous and defective products, medical malpractice, slips, trips and falls, alcohol related injuries, construction accidents and workers' compensation. He has handled a wide variety of injury claims including traumatic brain injuries, spinal cord injuries (quadriplegia and paraplegia), orthopedic injuries, burn injuries, electrical injuries, cerebrovascular accidents (stroke) and death. Because of his engineering background, he has a particular interest in injury claims involving defective products and machinery and claims involving dangerous highways or road conditions.
Mr. Landay is the Vice President and former long-time Director of the Western Pennsylvania Trial Lawyers Association and is a member of the Pennsylvania Association for Justice and the American Association for Justice.  He regularly lectures to other attorneys for the Pennsylvania Bar Institute.