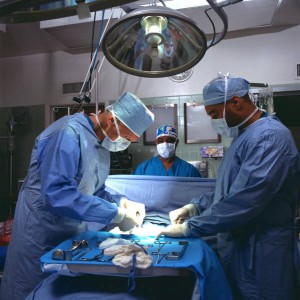 Medical malpractice means that a medical provider such as a doctor or hospital negligently caused injury. Negligence means acting with less care than a reasonable person under the circumstances. When you drive your car, you must follow certain rules of the road. If you fail to stop for a stop sign or a traffic light and hit another car, you have been negligent.
In medicine, medical providers must also follow certain rules of the road, called the standard of care. If the medical treatment does not meet the standard of care and injury results, the medical provider will also be negligent. The standard of care in medicine is usually not written in any medical textbook or journal. Standard of care is usually a matter of medical opinion. In a medical malpractice case, a second doctor must testify that, in his or her opinion, the provider's medical treatment was beneath the standard of care. The need for such expert medical testimony makes the cases very expensive. They are also very time consuming. Just because the treatment did not go as planned or injury or even death results, that does not mean there was malpractice. Doctors rarely guarantee the result of their treatment and medicine is not an exact science. A doctor or other medical provider must have acted negligently or negligently failed to provide the proper treatment.
Except in the clearest cases, most malpractice claims are vigorously defended by the medical providers and its insurance company. Since the doctor usually must consent to any settlement, even meritorious cases sometimes go to trial because he or she is reluctant to admit to any wrongdoing. In Pennsylvania, a lawsuit must be filed within two (2) years of the malpractice, although there are exceptions to this rule which may extend the filing deadline.
If you or someone you know has been seriously injured because of medical treatment and you think you may have a Malpractice Case, I can assist you in evaluating your case.
»Read My Sample Medical Malpractice Cases

HELPFUL RESOURCES
» Verify a Pennsylvania Doctor's License & Search for Disciplinary Action\
» Get the REAL facts on Medical Malpractice
» Verify that Your Doctor is Board Certified (free registration required)

» Pennsylvania Healthcare Providers Excluded from Medicare Participation due to Fraud & Other Misconduct
» Check out Pennsylvania Nursing Homes – State Inspection Reports Available
» Compare Pennsylvania Hospital Performance
» Hospital Quality Check – The Joint Commission
» Medical Negligence Law in Pennsylvania (MCARE Act)
» Medical Negligence Rules & Statistics in Pennsylvania – The PA Supreme Court
» Locate a Doctor – American Medical Association
» Medicare Physician and Healthcare Professional Directory
» Find a Specialist – National Institutes of Health
» National Guideline Clearinghouse: Clinical Practice Guidelines
» Primer on Medical Negligence
» Wrong Site, Wrong Procedure, Wrong Patient
» 98,000 Patients Killed Annually by Medical Errors
» Five Myths about Medical Negligence
» American Medical Association: Doctors Not Fleeing the Profession
» Important Medical Malpractice Facts