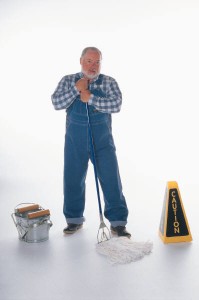 People get injured on another person's property in every imaginable way. Injuries inside a building may result from elements of the building itself, such as unsafe stairs, ramps, doors, windows or floor surfaces. Inside injuries may also result from poor lighting or insufficient sight distance. Inside injuries can also result from moveable objects such as the position of furniture, appliances, or a loose rug.
There are a number of codes and regulations which may be applicable, depending on the nature of the unsafe condition. Some of these codes include the BOCA Code, the National Fire Protection Association Code, and the Americans with Disability Act (ADA) design codes. A qualified building inspector, architect or engineer will be able to determine if a code violation contributed or caused a trip, slip or fall.
Injuries outside of a building may be caused by weather conditions, property conditions or both. There may be ice or snow present or loose gravel. There may be unguarded holes or other potential hazards on the ground itself. There is limited or no liability, however, for a landowner who permits recreational use of his land by the public without charge.
Different Standards of Care
The level care owed by a landowner or occupier of land depends on whether the person who was injured was an invitee, a licensee, or a trespasser.
An invitee is either a public visitor or a business visitor. A public visitor, for example, is someone who is in a public place. A business visitor, for example, is someone who is in a retail store. A licensee is someone who is there with the owner's consent but with no business purpose. A licensee, for example, is a guest in your home. A trespasser is someone who is there without permission.
For an invitee, the landowner must use reasonable care to maintain his land and protect from foreseeable harm. The owner is also required to inspect for discover dangerous conditions.
For a licensee, the landowner must use reasonable care to make his property safe and disclose any risks. The owner does not have to inspect for dangerous conditions, however.
For a trespasser, if the landowner knows or should know someone is on his property without permission, he is not allowed to act willfully or recklessly in causing injury.

Special Duty to Trespassing Children
If a landowner knew or should know that minor children are likely to trespass and that there is a dangerous condition on his property, then he may have a duty to eliminate the danger at a reasonable cost. For example, if a landowner knows that minor children always sled ride on his property and that there is a broken fence at the end of the sled run that could be a danger, then he may have a duty to fix or remove the fence.
Injuries Due to Ice and Snow
In Pennsylvania, special rules apply to injuries due to ice and snow. Particularly in Western Pennsylvania, with the hilly terrain, many injuries result from someone slipping or falling on an unshoveled or unsalted sidewalk. If there are generally icy conditions everywhere, then the land owner is only responsible for falls on pedestrian walkways if the ice and snow has formed "hills and ridges". This means the ice and snow have been there long enough to form different elevations that unreasonably obstruct travel. In other words, merely failing to shovel and salt a sidewalk after a snowfall does not create liability if someone slips and falls.
The "hills and ridges" concept does not apply to isolated patches of ice and snow. It also does not apply if the ice or snow accumulation is created by an artificial condition. Artificial conditions would include, for example, a depression in the sidewalk or a defective rainspout that allowed water to accumulate and freeze.
If you or someone you know has been injured in a slip, trip or fall on someone else's property, I can assist you in evaluating your case.
» Read My Sample Slips, Trips & Falls Cases

HELPFUL RESOURCES
» Search for a Pennsylvania Business – PA Corporation Bureau
» Locate Allegheny County Property Owner by Street Address
» City of Pittsburgh Bureau of Building Inspection
» Find a PA Licensed Insurance Company
» Americans with Disabilities Act Accessibility Guidelines